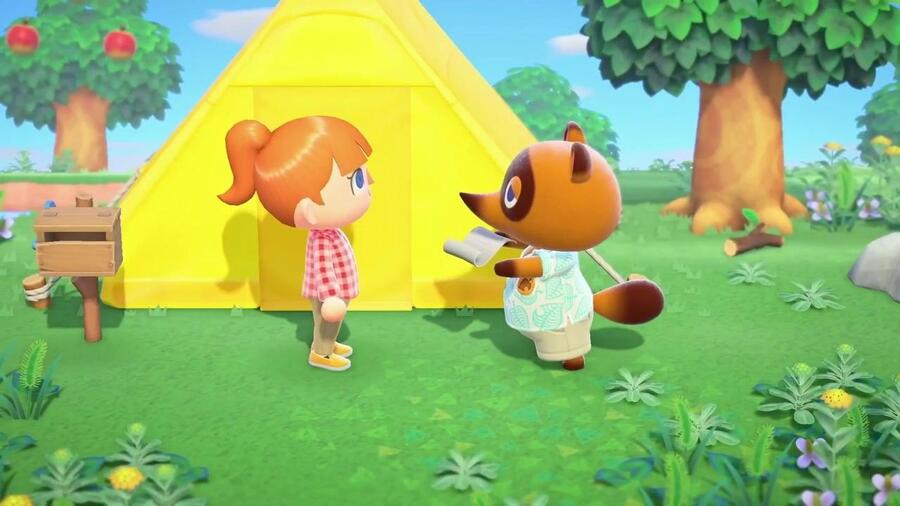 Update: It would seem that Nintendo has had a change of heart regarding cloud saves, perhaps spurred on by the rather negative reaction to the news that you can only have one island person console. The following update has been posted on the Japanese Animal Crossing: New Horizon's site (thanks, Google Translate!):
This software does not support "Save Data Storage" of Nintendo Switch Online, but in case of failure, loss or theft of the Nintendo Switch [console], we are considering a function to back up save data. Use of this function is limited to Nintendo Switch Online subscribers. Correspondence time is undecided. We will inform you as soon as the time is decided.
---
Original Story [Mon 17th Jun, 2019 15:00 BST]: Animal Crossing: New Horizons was finally unveiled during Nintendo's E3 Direct last week, giving fans of the series both good and bad news. The good news is that it looks as delightful as ever, with proceedings this time taking place on a deserted island; the bad news is that the game has been delayed slightly to March 2020.
The good and bad news trend continues, as we now have more information regarding some of the game's features. The game's director, Aya Kyogoku, and producer, Higashi Nogami, recently sat down with French outlet Gamekult to talk all about the new game and what players can expect, with topics such as cloud saves and amiibo support being mentioned.
When asked about how the game will use the cloud save functionality offered on Switch, Nogami shared the following (translation by Miketendo64):
"New Horizons will not be compatible with cloud backups to avoid manipulating time, which remains one of the founding concepts of the series."
Yep, the game will not feature cloud saves, meaning – should you lose your Switch console – your hundreds of hours' worth of Animal Crossing game time will be lost in the blink of an eye. The reasoning makes sense, of course, but we're sure fans will be left rather concerned by the news.
Every cloud really does has a silver lining, though (ahem), as the interview also suggested that we'll be seeing some amiibo functionality present in the game – great news if you have a full set of cards just sitting about at home.
Can you confirm that Animal Crossing: New Horizons will be compatible with the amiibo range?

Kyogoku: Given the number of cards and figures available, we obviously think New Horizons will be compatible with amiibo, but I can not tell you more about this compatibility at this stage of development.
Does the lack of cloud save support worry you? Would you rather the feature be implemented, regardless of issues with time manipulation? Let us know in the comments below.
[via gamekult.com, miketendo64.com]